The attached article appeared recently in the Sutton Chronicle Week, in which one of its readers reminisced over the early days of the Gracechurch Shopping Centre.
A photograph dated the 9th November 1974 was included, which depicted murals of Sutton Park above the shop fronts in the area of Beatties and W H Smith, together with the 'Bishop' chess piece in the centre of the Mall.
How things have changed in the interim years, from a vibrant, busy shopping destination to one that is fighting for its very existence, due to changing shopping trends.
Here are a few more scenes to remind members of better times.
'King's Court' )
'Bishop's Court' No. 1 ) All taken during the Summer of 1975
'Bishop's Court' No. 2 )
Next are the wonderful bronze figures, which were such a feature in the early days for visitors to the shopping centre to admire. For some inexplicable reason it was decided that these should be removed in 2007, to be replaced by bland, stainless steel seating!
Shown here are:-
(a) Child with Great Dane )
(b) Children playing leap-frog ) All taken during 1997
(c) Roller-skaters )
Finally a glimpse of the decorations which were put up over Christmas 1999.
---
Original article from Sutton Chronicle Week:
Nostalgic glimpse of town centre history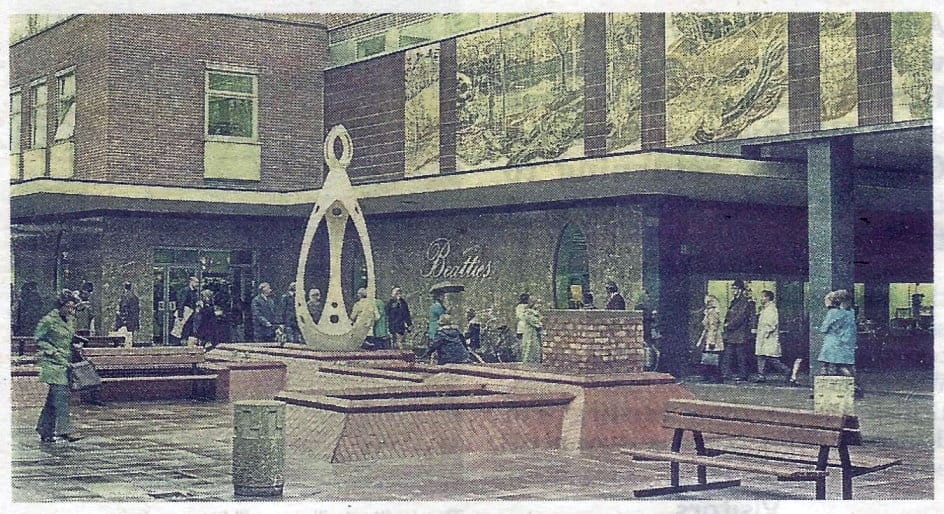 A former Sutton resident has shared a picture of the Gracechurch Centre from the past.
Mike Dean, who now lives in Andover, got in touch with Chronicle Week to give readers a look at life while shopping in the town centre during the 1970s.
The image shows shoppers heading to Beatties and Mike said: "It is-an image I took on November 9, 1974.
"I like the fact it illustrates the Sutton Park murals that featured above the shops. It was a drizzly day which is why most people are close to the shop fronts and underneath the concrete awnings.
"I was born in Sutton and my parents lived in New Oscott from 1947 onwards. As an ex-Bishop Vesey Grammar School pupil I used to come back through Sutton and my parents and I regularly visited Sutton for shopping and a coffee in the mornings.
"I used to play chess and was always fascinated by the 'Chess' offices on Sutton railway station so when the 'bishop' chess piece appeared in the Gracechurch Centre I had to take a picture. It was a great place to be and the one thing I regret is not taking many pictures of the Parade at that time."