Chalford House lies hidden behind a belt of trees in Belwell Lane, known to only a few Suttonians until there was an auction of the contents of the House in June 2008. Such a large old house, surrounded as it is by later residential development, intrigued local historian Keith Jordan, who decided to find out about its history.
It was not hard to find out that the house was built for Edward Hill James in 1884, on a plot of land he had purchased on the thirtieth of September 1882. James engaged the services of the architect William Henman to design his house. Keith Jordan writes: "At the time he was appointed by Edward James, William Henman was in the process of building his reputation, having already designed, in neo-Queen Anne style, Handsworth Council House and Library, Soho Road, in 1880. He was later asked to design an extension to the building in 1891. Not long after being involved in the house at Belwell Lane, Henman was appointed Architect for the General Hospital, Steelhouse Lane, Birmingham, the building of which commenced in 1894 and was completed in 1897. It was built in terracotta, in the Renaissance style".
Not long afterwards, in 1888, James laid out £3,500 to buy more land which had come on the market, comprising most of the area between Four Oaks Road and the railway line to Lichfield. He now owned the land where Irnham Road, Midgley Drive, Hawkesford Close, Pine Leigh, and Beechcroft Court apartments were later built.
The story of Edward Hill James's rise from rags to riches in Victorian Birmingham, and his move to the select society of Sutton Coldfield, is told in a newly-published article by Keith Jordan, whose research, which began in 2008, is ongoing. The article is in Proceedings of the Sutton Coldfield Local History Research Group, vol. 11, first printed last month and now available from the secretary, Janet Jordan, at This email address is being protected from spambots. You need JavaScript enabled to view it. or This email address is being protected from spambots. You need JavaScript enabled to view it., price £5.00.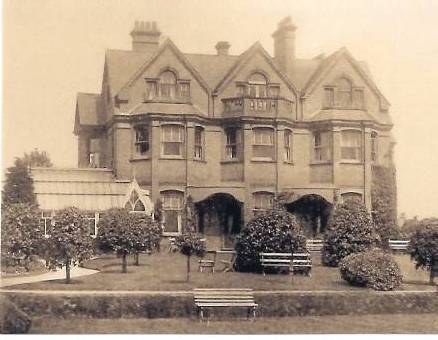 South view of 'Chalford' (rear elevation).