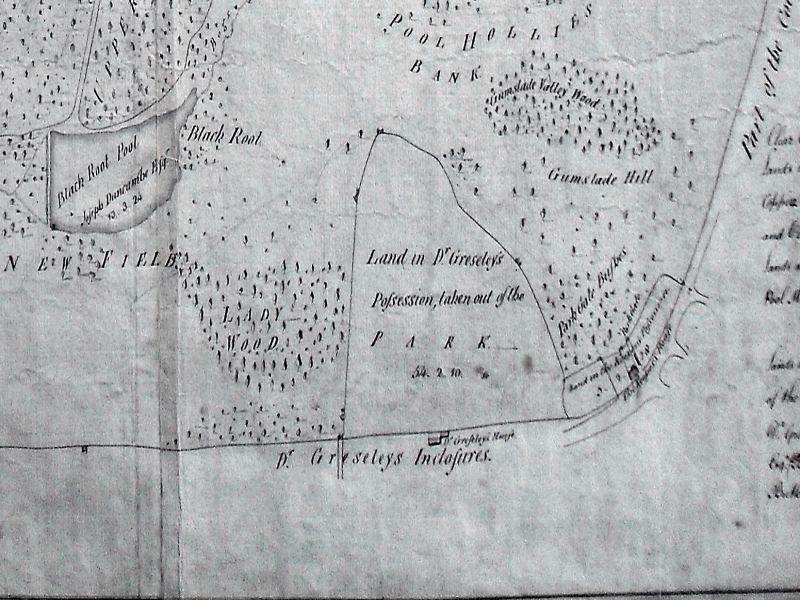 A survey of Sutton Park, made in 1779, shows that the boundary fence had nine gates. Only four of the gates lead into the park from Sutton, the other five give access from the neighbouring Staffordshire parishes of Perry Barr and Great Barr - opening on to Chester Road and Thornhill Road.
In 1779 the boundary on the Sutton side was very different from what it is now - Powells Pool, Wyndley Pool, Town Gate and Meadow Platt were all in private hands outside the park, while Ladywood was still part of it. This all changed in 1825 when Ladywood was added to Four Oaks Park in exchange for other land, and the Town Gate entrance was made. Sarah Holbeche remarked in her Diary "1825. New Road made to the Park, a great boon, before which the only access was at Doe Bank". The Doe Bank gate ,which no longer exists, is shown on the map; it was located in the middle of what is now the Four Oaks Park Estate, just north of the junction of Ladywood Road and Bracebridge Road. The gate was sometimes known as Ley Gate because it was near Ley Hill Common. When Ladywood was added to Four Oaks Park by Sir E.C.Hartopp, this gate was replaced by the present Hartopp Gate, not marked on the 1779 map.
The gate at Wyndley was where it is now. Wyndley Gate was nearer to Sarah Holbeche's house in High Street than the Doe Bank gate, but the footpath (now Clifton Road) leading to Wyndley was muddy, and the sawmill on the dam of Wyndley Pool was unpleasant - she probably thought of Wyndley Gate as the tradesman's entrance to the Park..
The Park Keeper's house was located at Four Oaks Gate. The house and two small fields were on land inside the old Park boundary, possibly set out in the 1520s when Bishop Vesey reorganised the Park for the new corporation of Sutton. An earlier keeper's lodge may have been near Keeper's Pool. Four Oaks gate probably took its name from the nearby settlement of Four Oaks, but the Park was here before the settlement, so the gate may have been named for four ancient trees, and the settlement was named Four Oaks because it was near the Four Oaks gate.
The only other gate leading from Sutton was the Milking Gate opposite Park View Road in Streetly Lane. This is still known as the milking gate, although the cows in the Park no longer gather there at milking time as they once did; in 1779 this gate opened onto the barren waste of Four Oaks Common.