Page 1 of 2
This article by Roger Lea, was first published in The Birmingham Historian (Number 9) in 1993. This was the twice-yearly news journal of the Birmingham and District Association of Local History Societies and was then edited by George Demidowicz.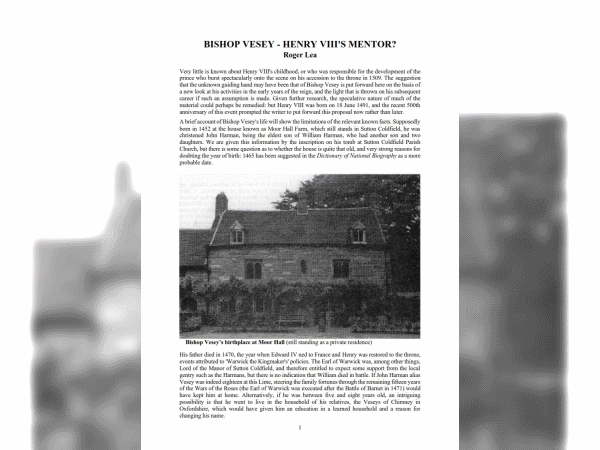 Bishop Vesey, born John Harman, supposedly in 1452, at Moor Hall Farm in Sutton Coldfield was the eldest son of William Harman who had another son and two daughters. William Harman died in 1470 leaving his widow to bring up four children.
Lea deals briefly with John Harman's childhood in Sutton Coldfield about which very few relevant facts are known and raises doubts about the authenticity of John's birth date and whether Moor Hall Farm is quite that old. The Dictionary of National Biography suggests a more probable birthdate of 1465 and on this basis Lea suggests that John Harman was sent at an early age to be raised by relatives, the Veseys of Chimney in Oxfordshire, which would have provided him with a learned education and a reason for adopting the name of Vesey.
Lea outlines Vesey's rapid rise in an influential career; Magdalen College, Oxford, 1482; his appointment to the household of the Queen, 1489; many preferments in the Church; appointed Dean of the Chapel, 1514; read the Papal Bull at Wolsey's investiture as Cardinal, 1515; appointed tutor to the infant Princess Mary, 1516; Bishop of Exeter, 1519; attended the Field of the Cloth of Gold, 1520; greeted the Emperor Maximilian I at Dover, 1522; created President of Council of the Marches in Wales, 1525. Shortly afterwards he established his Moor Hall Estate in 1527 and secured the Sutton Town Charter from Henry VIII in 1528.
However, Lea's interest is not so much Vesey's influence on the history of Sutton Coldfield but his influence on our national history. He does this by expanding on each layer of Vesey's career and detailing his interaction with the main players, Henry VIII, Wolsey, Thomas More, and Princess Mary.
He does not shy away from the many criticisms of Vesey's episcopate when he had a heretic burned at the stake and was accused of impoverishing the once rich See of Exeter. This paper provides us with a much-needed account of Vesey's "heady days at court or the high Church office that had been his lot".
Roy Billingham
April 2020