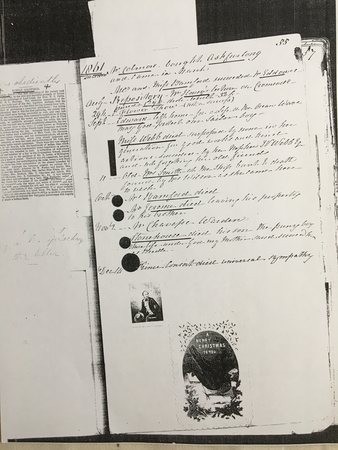 Page 55
1861
March
Mr Colmore bought Ashfurlong and came in March.
Messrs and Miss Bamford succeeded Mr Eddowes.
Aug
Repository - Mr Honey's Lecture on Cromwell proceeds 1£ 7s 0d - and result 32£
29th
Flower Show - (not a success).
Part of a newscutting appears on Page 54 about this flower show, mentioning Miss Holbeche (this would be Sarah, as the eldest daughter was always referred to as Miss, rather than by her Christian name)
Sept
Edward left home - for a life on the Ocean Wave. May God protect our Sailor boy. Miss Webb died - surpassed by none in her generation for good works and kind actions - succeeded by her nephew TV Webb Esq and not forgetting her old friends.
1
Old Mrs Smith at the shop burnt to death, found by Mrs Wilson as she came here to wash.
Oct
Mrs Bamford died
Mr Jerome died leaving his property to his brother.
Nov 2
Mr Chavasse - Warden
Stonehoue died, his son the puny boy whose life under God my Mother saved, succeeded him as Beadle.
Dec 14
Prince Consort died universal sympathy
Photo (of Prince Consort?)