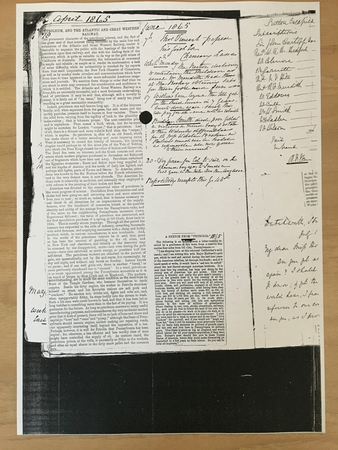 Page 78
1865
June
7
Thos Vincent passed his first ex(am). Chancery Lane.
5 Whit Monday
The Rector declining to entertain the children as usual, Mr Meredith had them at the Rookery obtaining subs for their food and fun.
17
Wilkin's barn beyond the tollgate, for the third time in 7 years burnt down again - surely this will pay for all - and not be rebuilt. Builder Smith died, poor fellow, a victim in mind, body and estate to the Walmley difficulties for which Miss Webster Barker and Perkins must ever be held as responsible - all now gone to their account.
20
Day fixed for Ed (Edward) to sail on his second voyage to India.
Last year in the Nile - now the Anglesea.
Repository receipts this yr 43£
Large newsutting re Petroleum, and the Atlantic and Great Western Railway
Small newscutting petroleum and America. 1865