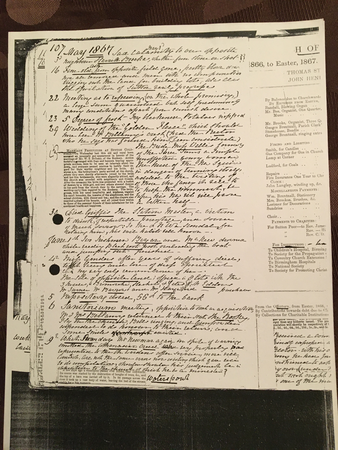 Page 107a
1867
May 3
Sad calamity (May 3rd?) to our opposite neighbour - Harriett Brockas, whether from stone or shot??
16
Fine old Ash from opposite field gone, partly blown down, now all removed - and men with no compunction trigging out the land for building lots - alas alas the spoilation of Sutton verily progresses.
22
Meeting as to repewing (on the whole promising) a large sum guaranteed but self predominant many conditions apart from earnest desire.
23
5 Degrees of Frost - Ivy blackened, potatoes nipped.
29
Wedding of the "Golden Fleece" which should have been Mr Bellamy's crest (had the Rector who he says has found him one been considerate). The Bride Miss Wallis formerly of The Three Tuns a simple unaffected young woman. The head of the New Squire in danger of turning itself, added to the twisting of those who fancy it well to help the movement we hope his new wife will prove a better half.
Newspaper cutting re wedding of Mr Bellamy
30
Died Griffis, the Station Master, a victim of drink, of respectable parentage, and source of much sorrow: to the LNW scandal for retaining him, his evil habits well known.
June 1
Two Irishmen, Bryan and McKew drowned while weeding Black Root Pool overloading the boat and jumping out perished.
4
Miss Genders after years of suffering died, tight lacing and love of dress associated with my very early remembrance of her.
The sale of opposite land; offered in 8 lots with the 3 houses - Bromwichs, Hackets and Yates. M Eddowes, Mr Turner, Mr Barrows and Mr Hayward (Westons), purchasers
5
Repository closed 55£ to the Bank.
6
Sanitorium meeting, opposition to such an acquisition.
Mr and Mrs Bellamy returned to their seat the Rookery. Flag on the Church, Bells ringing and gunpowder expended to do honour to their return and some smiles excited.
9
Whit Sunday. Mr Newman again in spite of warning omitted the Athanasian Creed which very properly was represented to the Ch Warden after services, more will come of it. Are not the same errors now existing which gave rise to its compilation, wherefore should his judgement be in opposition to the church of which he is a minister?
Newscutting re Water Spout at Elford, Tamworth