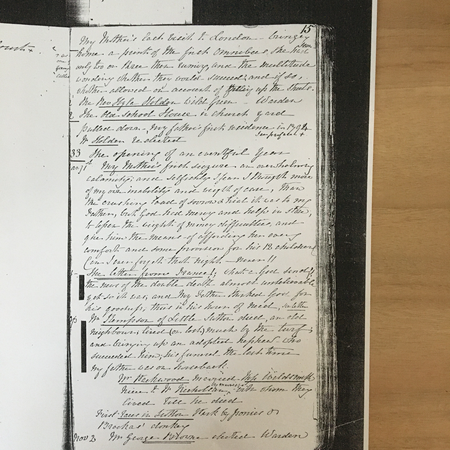 Page 15
My Mother's last visit to London - bringing home a print of the first omnibus she had seen only two or three then running, and the multitude wondering whether they would succeed; and if so, whether allowed on account of filling up the streets.
1831
The Rev Hyle Holden Wild Green - Warden.
1832
The Old School House in Church Yard pulled down. My Father's first residence in 1794 (see preface**).
Mr Holden re-elected.
1833
The opening of an eventful year.
Jany 1st
My Mother's first seizure an overwhelming calamity, and selfishly I thought more of my own inability and weight of care, then the crushing load of sorrow and trial it was to my father, but God had mercy and help in store, to lessen the weight of money difficulties and give him the means of affording every comfort and some provision for his 12 children. Can I ever forget that night - never!!!
Feb
The letter from France! What a Godsend, the news of the double death almost unbelievable, yet so it was and my father thanked God for his goodness, this in his hour of need (see letter)
Sep?
Mr Kempson of Little Sutton died, an old neighbour, lived (or lost) much by the turf; and bringing up an adopted nephew - who succeeded him, his funeral the last time my father was on horseback.
Mr Packwood married Miss Wildsmith, niece to Mr Nicholason by marriage, with whom they lived till he died.
First Races in Sutton Park by ponies and Brockas' donkey.
Nov 2
Mr George Brown - elected Warden.