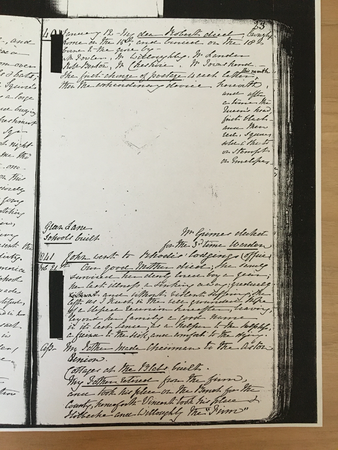 Page 23
1840
January 12
My dear Robert died, brought home on the 15th and buried on the 18th, borne to the grave by - Mr Fowler, Mr Willoughby, Mr Lander, Robert Benton (?), Mr Cheshire, Mr Townshend -
The first change of postage, 4 each letter this month, then the extraordinary device herewith
and after a time the Queen's head, first black and then red, squares (?) sold on stamps, on envelopes.
Green Lanes Schools built.
Mr Grimes elected for the 3rd time Warden.
1841
John went to Rhode's lodgings (office).
Feb 21
Our good Mother died; she scarcely survived her dearly loved boy a year. Her last illness a sinking away; gradually and without violent suffering, she left us I trust in the well grounded hope of a blessed resurrection hereafter, leaving, beyond her family, a good name in its best sense, as a helper to the helpless, a friend to the sick, and comfort to the dying.
Apr
My father made Chairman to the Aston Union.
Cottages at the Blabs built.
My father retired from the firm, and took his place on the Bench for the County, henceforth.
Vincent took his place and Holbeche and Willoughby the "Firm".