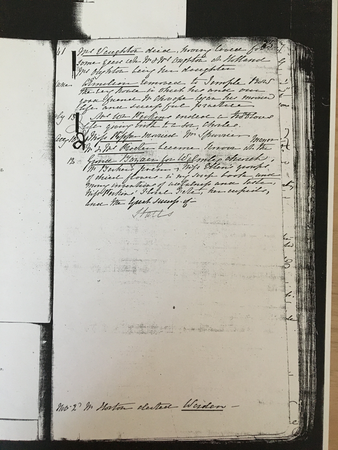 Page 25
1841
Mrs Vaughton died, having lived for some years with Mr and Mrs Oughton at Holland, Mrs Oughton being her daughter.
June
Aemilion removed to Temple Row, the very house in which his and our good friend, Mr Chavasse, began his married life and successful practice.
July 13
Mrs WM Perkins ended a troublous life giving birth to a son, Charles.
Aug 10
Miss Pepper married Mr Spurrier.
Mr and Mrs Procter became known at the Manor.
Aug 12
Grand Bazaar for Walmley Church, Mr Barker's poems, Miss Ellen's groups of dried flowes - in my scrapbooks, and many inventions of usefulness and taste, Miss Perkins' Floral Fete, her cupids, and the Great success of:-
Halls/Hatts (?)
Nov 2
Mr Horton elected Warden