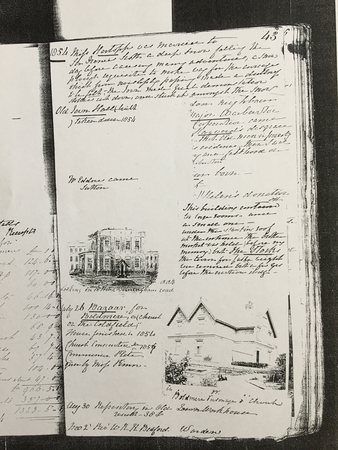 Page 43
1854
Miss Hartopp was married to Sir Francis Scott, a deep snow falling the day before causing many adventures, a snow plough requisite to make way for the carriages which from noiselessly passing made a dullness to be felt. The Town made great demonstration. Hollies cut down, and stuck up amonst the snow.
Item stuck in here, covering some of the wording to the right
Old Town Hall (built )
Taken down 1854,
Mr Eddowes came to Sutton.
Picture of old Town Hall here, initialled AAB (i.e. Bracken) and entitled "Looking into the Birmingham Road".
Major Warburton - corporation, came - Haywards disgrace. that old man's poverty is evidence, then I Any falsehood or
This building contains two large rooms - and a small one - under the slanting roof at the entrance the butter market was held (before my memory) but the Stocks, the terror for false weight, were removed but a few years before the auction itself.
July 26
Bazaar for Boldmere or (Church on the Coldfield). House finished in 1854, Church consecrated 1857. Communion Plate given by Miss Pimm.
Picture of Boldmere Parsonage & Church
Aug 30
Repository in Old Town Workhouse result 38£
Nov 2
Rev WKR Bedford Warden