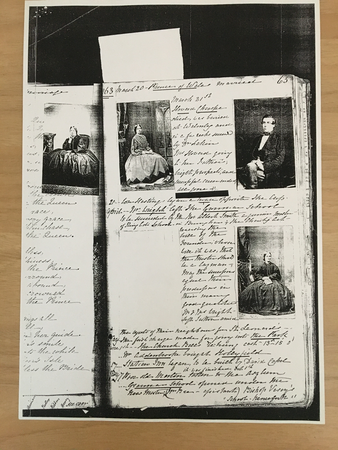 Page 63
1863
March 20
Prince of Wales married.
March 21st
Howard Chavasse died, was buried at Walmley and in a few weeks succeeded by Dr Lakin. Mrs Howard going to her Father's; bright prospects and successful careers ended, all gone.
? Photo of Mrs Howard (Chavasse)
? Photo of Howard Chavasse
21
John Hastings began a house opposite the Cup.
April
Mr Wright left The Grammar School to be succeeded by Rev Albert Smith, a junior master of King Ed's school in Birmingham; the Charity Act reversing the Will of the Founder, whose will it was that the Master should be a layman. May the successors equal their predecessors in their many good qualities.
Mr and Mrs Wright left Sutton amid the regrets of their neighbours from St Leonards.
Blank photo - this was Mr Wright. It appears to have been removed to Richard Holbeche's diary!
May
The first charge made for going in to the Park.
June 1st
The Church Bells re-hung, cost 13£-15s-0d.
Mr Addenbrooke brought Hollyfield.
17
Station Inn began to be built by David Capel. It was finished Oct 1.
July 7
Poor old Martin taken to the Asylum.
...Grammar School opened under the New Master, (Mr Bee - assistant) 'Bishop Vesey's School' henceforth.