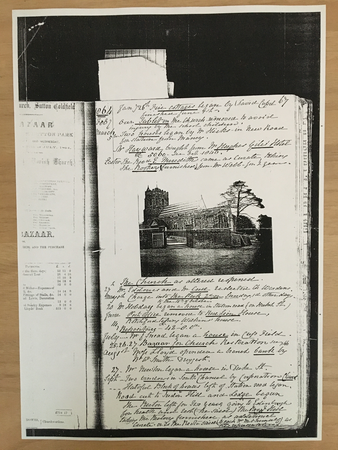 Page 67
1864
Jan 26
Five Cottages began by David Capel finished June 1st.
Feb
Our tablet on the Church removed to avoid inquiry by the school children.
March 5
Two houses began by Mr Hicks in New Road for station from Maney.
Mr Hayward bought from Mr Hughes Giles' Hotel £5060 - see Oct 1846.
Easter
The Revd E Meredith came as Curator, taking The Rookery furnished from Mr Webb for 2 years.
Photo of Holy Trinity Church
The Church as altered re-opened.
27 May
Mr Eddowes and Mr Cull re-elected Church Wardens.
May 1st
Charge into the Park 2d on Sunday, 1d other days, to the 15 October.
20th
Mr Hobday began a house in Station Road (on Hacket St).
June
Post Office removed to Red Lion House.
14
Rotchford taking Wilkins' house.
Repository £42.8s.0d.
July
Mr F. Snead began a house in Cup Field.
25, 26, 27
Bazaar for Church Restoration - see P66.
Aug 1
Miss Lloyd opened a branch bank by Mr Wm Smith, druggist.
27
Mr Newton began a house in Duke St.
September
Two windows in South Chancel by CorporationChurch?
.... Hateful block of houses left of Station road began.
Road cut to Tudor Hill and Lodge begun.
The Rector left for two years, going to Edinburgh for health and rest (he said). The Rev T Hill taking the Rectory furnished - as additional curate - or as the Rector said (to each Mr M and himself) as his representative.