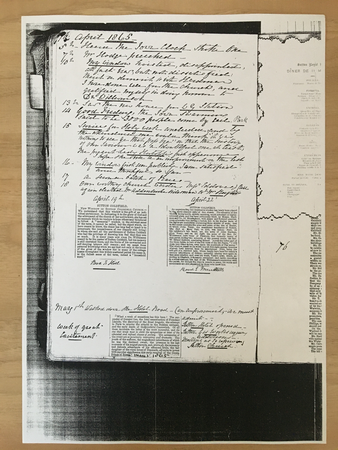 Page 76
1865
April
5
Heard the Town Clock strike One.
7
Mr Hodge preached.
10
My window hoisted, disappointed at first view but not dissatisfied. Merit or demerit is with Hardman. I have done well for the Church, and gratified myself in doing honour to Dr Williamson.
13
Saw the new house for WG Station.
14
Good Friday, the town swarming said to be 3000 people come by rail.
15
Services for Holy Week concluded, and by their attendance one would think "it was nothing to see ye that pass bye" or that the history of Our Saviour was a doubtful one at least. The present Lady Hartopp first appearance. I hope she will be an improvement on the last.
16
My window first seen publicly - I am satisfied and thankful so far.
17
A second batch of Races.
18
Our worthy Church Wardens, Messrs Eddowes & Cull again elected.
Mr Addenbrooke sidesman Ex(exit??)Mr Hughes
April 19th Newscutting re Sarah's window in memory of Dr Williamson
Revd? Hill
April 22 ditto
Revd E Meredith
May 1
Walked down the Hotel Road (an improvement - we must admit).
Sutton Hotel opened.
Sutton Gas Works requiring additions.
Meeting as to repewing Sutton Church
Newscutting May 1 1865 - week of great excitement - lots of sensational news