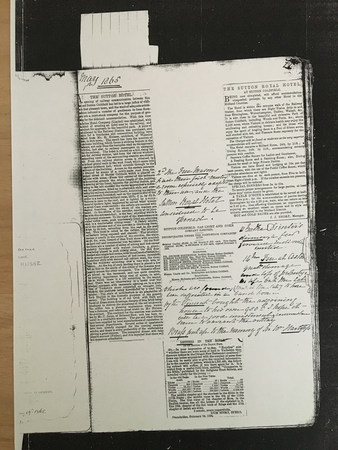 Page 77
1865
May 1
Newscuttings re The Sutton Hotel, The Royal Hotel, Gas Light and Coke Company
And letters in the Bible.
2
The Free Masons had their first meeting - a room especially adapted to their use: and the Sutton Royal Hotel considered to be opened.
11
The directors' dinner, a few favoured individuals invited.
16
Fire at Aston. Great damage and loss of property, no life but the cat's which was found (that is, the cat) to have been suffocated in a band box.
17
Vincent bought the adjoining house to his own 950£. I hope it will be a good investment, circumstances seem to warrant the outlay.
Brass put up to the memory of Sir Wm Hartopp.