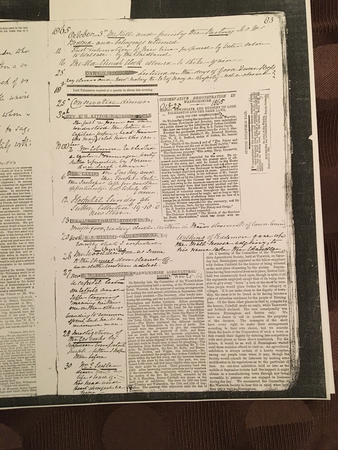 Page 83
1865
October 3rd
Mr Hill and Family the Rectory. Mr and Mrs Bedford and belongings returned.
12
First intimation of New Line proposed by Water Orton to Walsall by the Midland.
16.
The Old Church Clock allowed to strike again.
23
DAWSON, ESQ, MA - Lectured on the days of Good Queen Bess - very clever and new - making the execution of Mary a necessity, not a choice?
18
Newscutting: Lord Palmerston expired at a quarter to eleven this morning.
25
Conservative dinner
Newscutting - Conservatie demonstration at public dinner in SC
Mewscuttin re cattle disease - Fair off.
30
REV EH KITTOE, BA and MR CULLl
The first a poem as one understood the latter a capital paper; beat? him who may - catch him who can.
Nov 2
Mr Colmore re-elected a regular? Brumagem party - Sutton represented by Brum.
Lord Leigh came.
6.
DR. LAKIN. Mr Turkey and Mrs Tonks - but the ? left for another opportunity - not likely to return.
12
Hospital Sunday at Sutton. Collection £19.18s.0d.
New Stove.
13
REV ALBERT SMITH, EDDOWES, ESQ
Mission good, reading dull, neither in their element of law or learning.
20
REV. W.R.F. MEREDITH, ADDENBROOKE
Exactly what I expected.
Wilkins of Peddimore gave up the Malt House adjoining to his namesake the Chandler.
26
The Wooden box as screne? to the Chancel door cleaned off and a cloth curtain added.
27
REV. R.W. ESSINGTON, MA. A capital lecture on retorts and table turning meaning neither one or the other ? to common speech, but he is an uncommon man.
28
Investigation of the works by supposed competent people, better I hope than before.
30
Mr E Sadler died, what a life and load of sin? his head and heart changed we hope.
Newscutting re Warwickshire Agricultural Society - Meeting decided that S/C would hold next exhibition in 1866, 11 and 12 Sept.