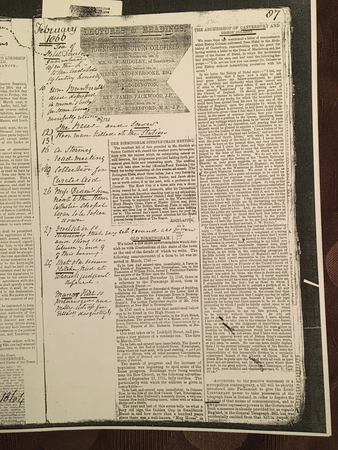 Page 87
1866
February
Mr Chavasse Mr Payne Mr Biggs Mr Elwell Mr Gwythen Mr Williams
Six of Hotel Directors guaranteed 10/- in the £ to the auditors - 19 Century honesty.
Newspaper cutting re Lectures and Readings at the Town Hall on February 6th
10
Wm Brentnall died depressed in mind and body for some time, mercifully released - P121
12
The Races - and snow.
13
Poor man killed at the Station.
16
A stormy road meeting
Newscutting re The Birmingham Steeple Chase Meeting
19
Collection for curates Aid.
26
Miss Dixons house next to the Roman Catholic Chapel began to be taken down.
27
Frost set in so suddenly that very wet ground was frozen and strong ice between 7 and 9 of the evening.
Newscutting re Old Birmingham
29
That old sinner Fletcher tried at Warwick, judgment deferred.
Manor Hill so picturesque and pretty - cut up for villas!! disgusting!!
Newscutting re The Archbishop of Canterbury and Bishop Colenso and also article about deprivation of Irish of their Telegraph Lines