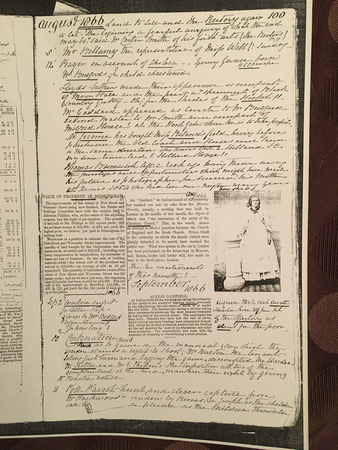 Page 100
1866
August
Land to sell and the Rectory again to let - "The beginning a fearful augury of what the end may be" said Mr Carter Smith of his first acts (The Rectors).
5
Mr Bellamy the representatives of Miss Webb!! Sunday.
12
Prayer on account of cholera. Young Grouse? born. HS Chavasse.
Mr Bedford's 9th child christened.
Lloyds - brothers made their appearance as occupants of Moor Hall and the pew, "specimen of Black Country gentry" - Oh! for the shades of the Hackets!!!
Mr Goodard appeared as Curate to Mr Bedford Second Master to Mr Smith once occupant of Milford House at the Park Gate where he is to take pupils. Mr Jerome has brought Miss Riland's field, having before purchased the Old Coach & Horses and land in the same direction - who knows but a Holland St may some time lead to Holland House.
Thomas Bromwich left a week ago having thrown away the privileges and opportunities which might have made his fortune as photographer, he succeeded his mother at Xmas 1864 who had been our neighbour many years. Here she is
Photo of mother Bromwich.
Newscutting re value of property in Birmingham - New St/Worcester St
Newscutting - from Moscow Gazette re restoration of unity of Christian Church
Sept 2
Worked carpet for Altar Step given by Mrs Bedford before leaving for how long?
10
Corporation Feud - as to game on the manorial; over which the Warden claims a right to shoot. Mr Burton the tenant taking first turn and bagging the game, discomfited the Wardens Mr Kite and Mr E Perkins. The Corporation with two of the complaintants at the head, maintain their rights by giving Burton notice.
11
Poll Parrot hunt and clever capture from Mr Packwood's window by Reeves (or Joseph as the children call him). He was pleased as the children themselves.