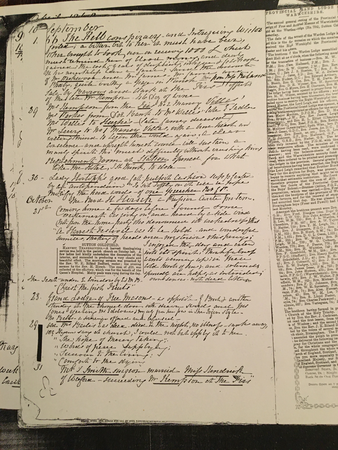 Page 101
1866
10 September
The Kell conspiracy and intriguing Widow foiled, a bitter bit to her it must have been when brought to book, even on receiving 1000£ which must remind her of blood money, and dearly gained; the cost, years of duplicity, intrigue and falsehood it has nevertheless been a farce; and the amount? of Mr Packwood and Mr James - Mr James and Brosly? quite worth a page in Punch (this from Miss Riland)
Sale by Barrows and Clark at the Firs!!!! Effects of the late Mr Kempson - 46 doz of wine.
29
Mr Kempson from the Firs No 2 Maney Villas!
Mrs Parkes from Doe Bank to Mrs Wallis - late E Sadler.
Mrs Wallis to Hughes - (late James deceased).
Mr Lucy to No 1 Maney Villas, with a brave heart and willing mind to begin the world again, a clear conscience and upright honest course will sustain a manly spirit tho' such difficulty without crushing him.
30
Lucy Hartopp's good fat pulpit cushion supplanted by an "antipendium" To sit softly on it will we hope mollify the hard words - of one preacher Rev JP ??
Oct 21
The Revd H Hirsch a Prussian Curate pro-tem.
Coming home a few days before I found some excitement was going on and heard by a side wind (not from the home party who denounced its wickedness) that "A Harvest Festival" was to be held and wonderful similes, shaking of heads and mysterious whisperings. I enjoyed this day and entered into its spirit, thankfulness wants warming up in these cold hearts of ours, and externally are helps?; as intended, our senses not dead
The Text under E window by Ed MB - .........""Christ the first Fruits".
Newscutting re Harvest Thanksgiving
23
Grand Lodge of Free Masons - as opposite G Beech and another standing at the Chancel door with drawn swords and Mrs Jones ejecting Mrs Eddowes and myself from her pew in the Tigers style.
No Bells - a sovereign offered and refused.
29
Old Mrs Bailis was dead - died in the night, no illness - sank away. 189 Hymn sang at church, I could not but apply it to her.
"The hope of mercy taking"
"Words of peace supplying"
"Succour to the living"
"Comfort to the dying."
31
Mr T Smith surgeon married Miss Hendrick of Weeford - succeeding Mr Kempson at "The Firs".