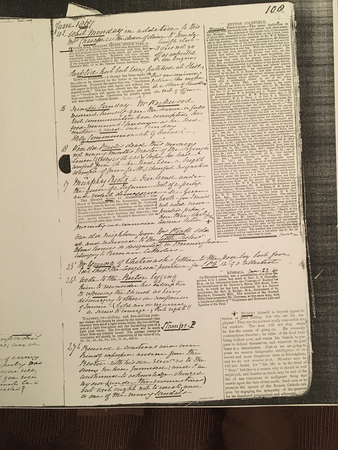 Page 108
1867
June 10
Whit Monday in addition to this Mrs Chavasse was the donor of dinner to Female Benefit Club.
Large newscutting re Whitsun Festivities in connection with Benefit Club
It does not go off as expected - bad bargains.
Newscutting re Tudor Hill Building Estate
Surplice hubbub being hatched at Hill, this an ominous notice who make it a stone of stumble on rock of offence.
Newscutting re surplices at Hill
15
Trinity Sunday - Mr Packwood recovered himself - gave service in full. Evil Communication has corrupted his good manners (I presume as he had omitted the creed on Sunday).
Holy Communion at 9 o'clock.
18
Poor old Bailis dead this morning - not many months Master of the Lying in Linen! (jolly as it was). I hope he had comfort from it - he had been a bright example of firm faith and cheerful resignation.
17
"Murphy Riots" - a Firebrand under the guise of a reformer - tool of a party, and violent demagogue - see Green book - for I must not add more printed papers here than what proximity and connexion concerns Sutton
Newscutting re Riots at Birmingham
Another cutting re Murphy relating to Roman Catholics
Our old neighbour Mrs Pratt sold up and removed to "The Little Sisters" Alms Houses so designated in Birmingham belonging to Roman Catholics
Newscutting re Rev LT Chavasse of Rushall - June 22
23
Mr Young of Whitenash, father of the poor boy lost from Ed's ship "the Anglesea" preached for SPG £12.9.0 collected.
24
Wrote to the Rector begging him to reconsider his subscription to repewing the Church as being discouraging to others in comparison of Income "(bold and required a screw to courage, but right!!
Cutting re postage stamps
27
Received a courteous and even kindly expressed answer from the Rector - with his own view as to the sum he had promised; and I am constrained to acknowledge changed my own (under the circumstanceds) but such ought not to exist, and is one of the many scandals.