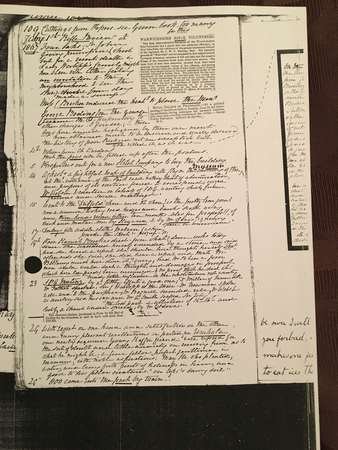 Page 109
1867
Cuttings from Papers - see Green Book - too many for this.
Cutting re Warwickshire Rifle Volunteers
June 1
Rifle Review at Four Oaks - Sir John giving permission (which but for a recent death in Lady Hartopp's family might have been with better feeling an invitation to the neighbourhood to see the show) a fine day made a success. Miss C Bracken endured the heat "to please the Men."
George Bodington the younger became MD - preparatory to other changes - I foresee - those boys have aimed high, and by their own merit have obtained much to be desired and equally deserved. The history of poor Richard (N.B. not Holbeche, but Bodington) not an exception but God willed it, as it was ................. (these leader dots led to page 110, which was not copied)
4
Notices from Ch Warden that the pews will be filled up after the psalms.
5
Prospectus out for a new Hotel Company to buy the building.
14
Aghast: a frightful heap of building with flag on the chimney of the Museum at the entrance of the Park road, nothing short of abomination, and purposes of its erection feared to correspond; urged Mr Webster to exertion on behalf of SPG - wanting which former failures and small meetings.
15
Went to the Driffold "where and oh where is the pretty land gone? Now a common looking road, hedges and banks swept away and three houses raised within 10 months - alas for progress!! Of brick and mortar - one by Hayward, 2 by Mr Davis, ignoring space or convenience.
17
Donkeys with saddle cloth Malvern fashion parade the street "progress"!!
19
Poor Harriet Brockas died - from what? Seven weeks today since she considered herself wounded by a stone, and said had she heard a report she should have thought herself shot, afterwards she said she did hear a report and that Mr Bellamy must have done it!! Query, had Mr B been a poor man, would such a thought and damages in prospect (which have been paid) been encouraged - no proof that he did it - brandy bottle influence - on the constitution not wanting.
Newscutting re diamond diadem for £30,000
23
SPG Meeting by a little effort a good one; Dr Miller of Tamworth, Mr Tuttiet Speaker, Sir J Hartopp in the Chair - Mr Newman spoke well and to the purpose, Mr Bagnall seconded well, Mr Webster as secretary said his say and Mr A Smith toasted Sir John, the best part a collection of £15.16s and lastly a Church Wardens spread by Mr Eddowes.
29
With regret on one hand, and satisfaction on the other, and many pleasant recollections we parted from Umhala our new acquired Young Kaffir friend, well repaid for the sort of doubt and little anxiety on receiving him, as to what he might be; a fine fellow, perfect gentleman in manner, with noble aspirations; May He who planted, water, and bring forth fruits of holiness in him, and good to his fellow creatures "on April's sunny soil".
29
800 came into the park by train.