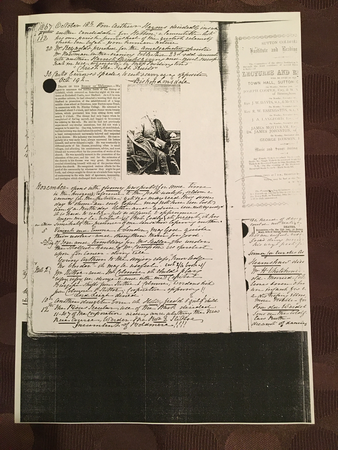 Page 112
1867
October 18
Poor Arthur Harness decidedly insane - another candidate for Hatton, a lamentable list has our parish furnished of the greatest calamity which can befal - poor human nature.
20
Mr Reynolds preached for the amalgamated charities. Mr Newman in the evening, collection 23£ odd - connected with another harvest thanksgiving and equal success. Text in rice (?) - exquisite by Miss Bodingtons "Christ the First Fruits".
30
Carts barrows and spades, to cut and carry away opposite.
Newscutting Oct 19 - Death of the Bishop of Lichfield and a photo of Bishop Lonsdale.
November
- opens with gloomy prospects (for some time in the horizon); reference to the past useless, seldom a warning for the future; yet ages may read this some day to whom an early lesson may not have been lost, even if a Birthday letter and advice were not regarded it is hard to realise facts so different to appearance. Anger may be useful (if not Godly) at present, it has somewhat the presence of one sensation lessening another.
5
Vincent and Emma to London, May God guide their resolve and strengthen them for good.
5th Day of fear and trembling for Mrs Sadler who under the skilful hand of Mr Crampton was operated upon for cancer - doing well.
Young Arthur to the singing class, "Knowledge no burden" it may be useful. Costs 2/6, book 1/-
Nov 9
Mr Kittoe and Mr Colmore at childs play "bissy bissy be, change a cord with me". Capital Burgess shifts from Kittoe to Colmore: Wardenship from Colmore to Kittoe. Corporation approving!!Lord Leigh dined.
10
Another daughter born at Hollyfield - 5th girl, 9th child.
12
The Pious Secular use of the Park decided, 11-7 of the Corporation aiding and abetting the New Race Course. Warden - the Rev E Kittoe, Incumbent of Boldmere!!!