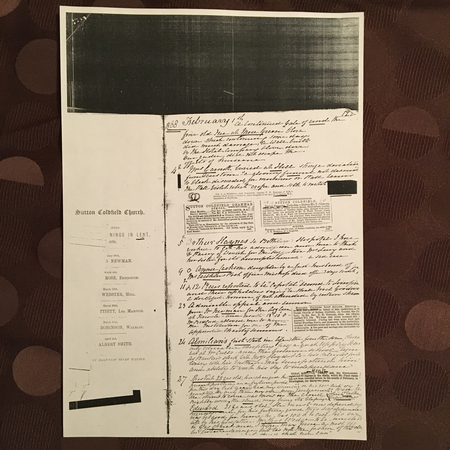 Page 122
1868
February 1st
A continued gale of wind the fine old tree at Mere Green blown down - which continuing some days did much damage, a wall built by the Hotel Company blown down, our garden did not escape the effects of huricane.
4
Mrs Garnett buried at Hill strange deviation from custom "a gloomy funeral not desired" so black discarded for mourners or Pall bearers. The Pall violet velvet crape and silk to match.
Newscutting re marriage of Sanders to Hodge
Newscutting re Grammar School - extra week's holiday because of good exam results
Newscutting re Petty Sessions - men charged with stealing sheep and fowls
Newscutting re birth of daughter to Mr and Mrs CB Hodgson
5
Arthur Haynes to Bethlem Hospital, I have worked to get his admission and have to thank Dr Passey of Warwick for the suggestion, Mrs Lucy and her sister for its accomplishment, a sad case.
9
Annie Jackson daughter by a first husband of Mrs Wilkins Post Office Mistress died after 3 days scarlet fever.
11 + 12
Races reported to be "capital" second to Liverpool and their upholders saying "we shall rival Goodwood" - a doubtful honour, if not attended by certain shame.
Newscutting re Midland Counties Idiot Asylum, Knowle (the institution mentioned below) "during last week some kind laldies visited Dorridge Grove and presented ......a number of excellent books and toys ......"
Admirable appeal and sermon from Mr Newman for the Asylum at Knowle - and result £13.10s.0d. Mr Bedford allowed me to name the Institution for one of the appointed Chairty semons
24
Aemilian's first start in life, the fourth son whose only education excepting half a yr at Reppingham was at Mr Cull's - and the Grammar School, begins as Banker's clerk with Messrs Lloyds & Co - his salary 40 per an, living with his Mother - may success attend him, and ability to work his way to independence.
Newscutting re Temperature 60 degrees - in Feb!
27
Thos Vincent 22 yrs old; how changed his present position and future prospect from this day last year; had my warning on his 21st birthday been prompted by any than my own poor judgement? to see that the storm to come was now in the cloud (which "broke before Xmas"). Rightly used, the cloud may bring its blessings.
Edward 21 years old. He must now depend upon himself and for his future good this self dependance may be good for him - he has 100£ to call his own left by his Godfather. Mr Thos Wedge - to be invested in Gas Shares - and I hope may prove a nest egg for future savings, but tis not the fashion of the day - "Have what you want, spend what you can."