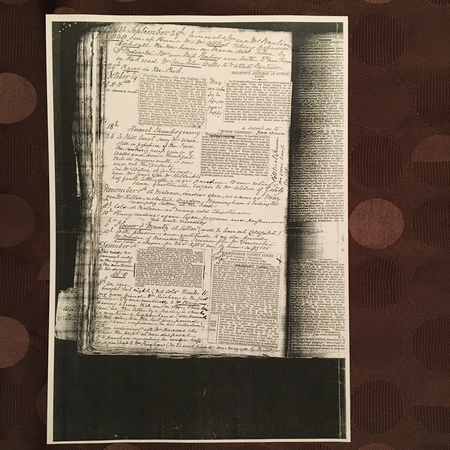 Page 132
1868
September 29
Removals. Mr and Mrs Rawlins gave up Penns, Mr and Mrs Allbutt taking possession. Rocksall the new house on Manor Hill taken by Dr Bodington. Mr and Miss Keeling and brother to a new house in Park Road. Mr Winkler Wills to Mr Allbutt's Bynterion.
29
Races in the Park
Newscutting re Frightful Accident at Sutton Races
October
18
Harvest Thanksgiving
Newscutting on Harvest Thanksgiving
19
EAH as second mate. May our sailor boy be safe; well good and happy.
Newscutting re Ted's ship Anglesey
24
To Hill Court seeing Mrs Wall still in possession of the Ford, the sinking process/force of walls and door, thankful that its money worth is ours and not the property.
Saw Mrs Wilson at Astwood received Mrs Jones (late Mrs Holbeche's half yearly letter after a 15 years purchase to our relief and questionable bargain to Mr Wilson of Gately.
Nov 1
At Malvern, windows open, as warm as May.
2nd
Mr Kittoe re-elected Warden. Birmingham and Erdington Swamping Sutton at the "Feed" (Warden's Choice?)
8
Cold at Malvern, as many cold Christmases.
10
Penny readings again began programme and performance not worth recording.
11
Flower & Muntz at Sutton (well to leave out Coldfield).
14
With pleasure and gratitude to my old friend Mr Beardoe(?) At Manchester I received from Mr Doncaster his Exor a cheque for £25 left to me by him.
December 1
Newscutting re sale of their house
This needs no comment unless on the ingenuity of the auctioneer in his description.
Newscutting re rabbit nuisance - Fox Hill
8
We were bought last night, "not sold" thanks to my good friend Mr Kirshaw in the first instances 2ly (secondly) and eventually to Mr Barrows having agreed that one or other should save us, the latter by a leading(?) in which we may trace a higher hand, was present at the sale, bid the last Five pounds and I have confidence in his intention.
12
An interview with Mr Barrows who places the profit at our disposal if to purchase ourselves he would help us, or give it up to Mr Kirshaw (for two such friends well may we be thankful).