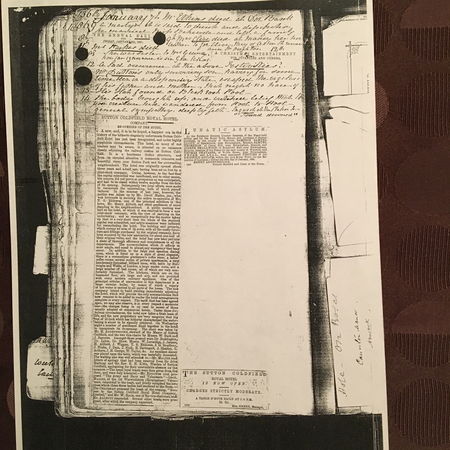 Page 136
1869
Jany 7th
Mr Etkins died at Doe Bank a martyr it is said to drink and dissipation.
8
Newscutting - The Annual Ball for Friday, January 8th 1869
9
Mrs Clive died at Maney her hu(sband?) brother to Joe Clive, they of Aston St union(?) and Mr Oughton.
11
Mrs Parkes died. She was sister to Mrs Grundy. How far ignorance is sin, God knows.
12
Newscutting - A Christmas Entertainment for Juveniles and Others
A sad occurrence at the above Festivities? Mr Dutton's only surviving son, having for some time been in a desponding state, escaped the vigilance of his father and mother, that night no trace of him.
13
His Hat found on Blackroot Pool.
14
The body brought up; and wretched belief that the poor creature had wandered from Pool to Pool - general sympathy, deeply felt - Inquest at the Station Inn "Found drowned"
Two Newscuttings re Re-opening of the Royal Hotel
Newscutting re the Driffold Lunatic Asylum - appointment of well known people as visitors