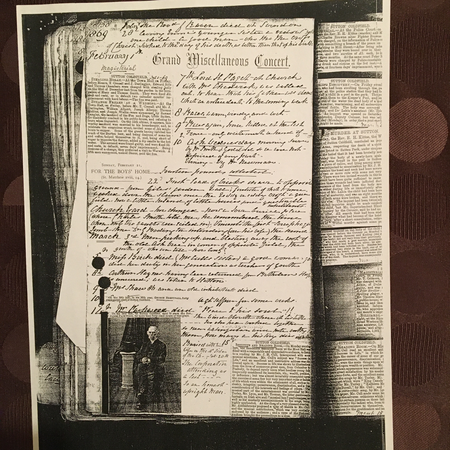 Page 138
1869
Feby
The Revd F(?) Raven died at Swindon 28th leaving Emma's younger sister a widow with one child - a good man - who through the cross of Christ looked to the day of his death as better than that of his birth.
February 1st Grand Miscellaneous Concert
Magisterial
Newscutting for Feb 1 - '69 re (1) Stealing Holly and (2) Strange Freaks at a Wedding
7
Lord H Paget at Church with Mrs Chadwick, was called out, to hear that his father was dead, what an antecedent to the coming week.
8
Races, warm windy and wet.
9
Races again, horse killed at the park.
10
Ash Wednesday morning service by Mr Smith & Goddard so we were not deprived of any part.
Evening by Mr Newman.
Newscutting - Sunday, February 21, FOR THE BOYS HOME
Fourteen pounds collected.
22nd
First load of bricks drawn to opposite ground - from Giles' garden wall; foretaste of what to come; washed down the slum once the Reddy or eddy croft a green field, now a little Ireland of little houses, and questionable inhabitants.
Church Yard - how changed - now a town burial place (where Charles Smith told me, he remembered the time when only two vaults were railed in). Vincent's the first sarcophagus tomb-stone. Dr G Bodington intending (over his wife) the second.
March 3rd
Men pecking up and blasting away the root of the old ash tree in corner of opposite field, the growth of - who can tell - how long?
5
Miss Birch died (Mrs Cull's sister) a good woman, did her duty in her generation as teacher of youth.
8
Arthur Haynes, having been returned from Bethelem Hospital as uncured; was taken to Hatton.
9
Mr Shaw 86 and an old inhabitant died.
10
Newscutting - on the 10 inst in his 65th year GEORGE BRENTNALL forty years parish clerk of Sutton Coldfield. A great sufferer for some weeks
14
Mr Packwood died "Peace to his soul"!!! The wind bloweth where it listeth .... He who had worked together so near is singular and noteworthy .......them, how many a history dies.
Newscutting - On the 14th inst at Sutton Coldfield aged 79 years, the Rev James Packwood, for more than forty years curate of that place.
Buried with his wife on the N Side of the Ch - at 20th. The Corporation attending as a last .........To an honest upright man.
Newscutting on the Institute and Reading Room - talk by Mr Cull at Moot Hall