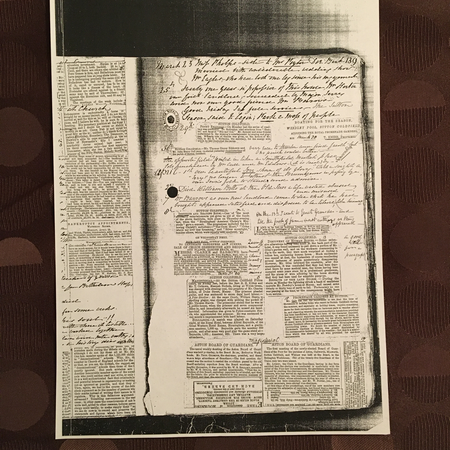 Page 139
1869
March 23
Miss Phelps - sister to Mrs Peyton, Doe Bank, married with considerable wedding show. Mr Eagles who had lost one leg since his engagement.
25
Twenty one years in possession of this house. Mr Horton our first landlord, succeeded by Major Terry and now our good friend, Mr Barrows.
Good Friday. Two full services, The Sutton Season said to begin, Park a mass of people.
29
Newscutting - Penny Readings
Newscutting - advertising Windley Pool - 20 March
30
Newscutting - churchwardens
Very well to threaten and find fault but no parish could better.
The opposite field paled in like a Smithfield market place - lots purchased by Mr Cull and Mr Eddowes (it is said) .
April 1st
Our beautiful ivy - shorn of its glory "What a soight a "Ivvy" no longer to attract the Brumagems in passing bye, our Towns folk to stand and amire.
2nd
Died William Betts at the Old Sun a life wasted abused and misused.
Mr Barrows as our new landlord came to see what he had bought, appeared satisfied and disposed to be liberal (like himself).
8
On the 13th I went to Great Grensden till the first of June, insert cuttings as they appeared.
Institute and reading room
Sale of plants from Four Oaks Hall.
Sarah says - Queer, needs must when want of money
Land to be let on old Chester road near station
Discovery of human bones at Mr Giles - they had been used for science
Storm caused fall of earth at Mr Fawdry's at Maney
Mr Cole's Promenade Gardens